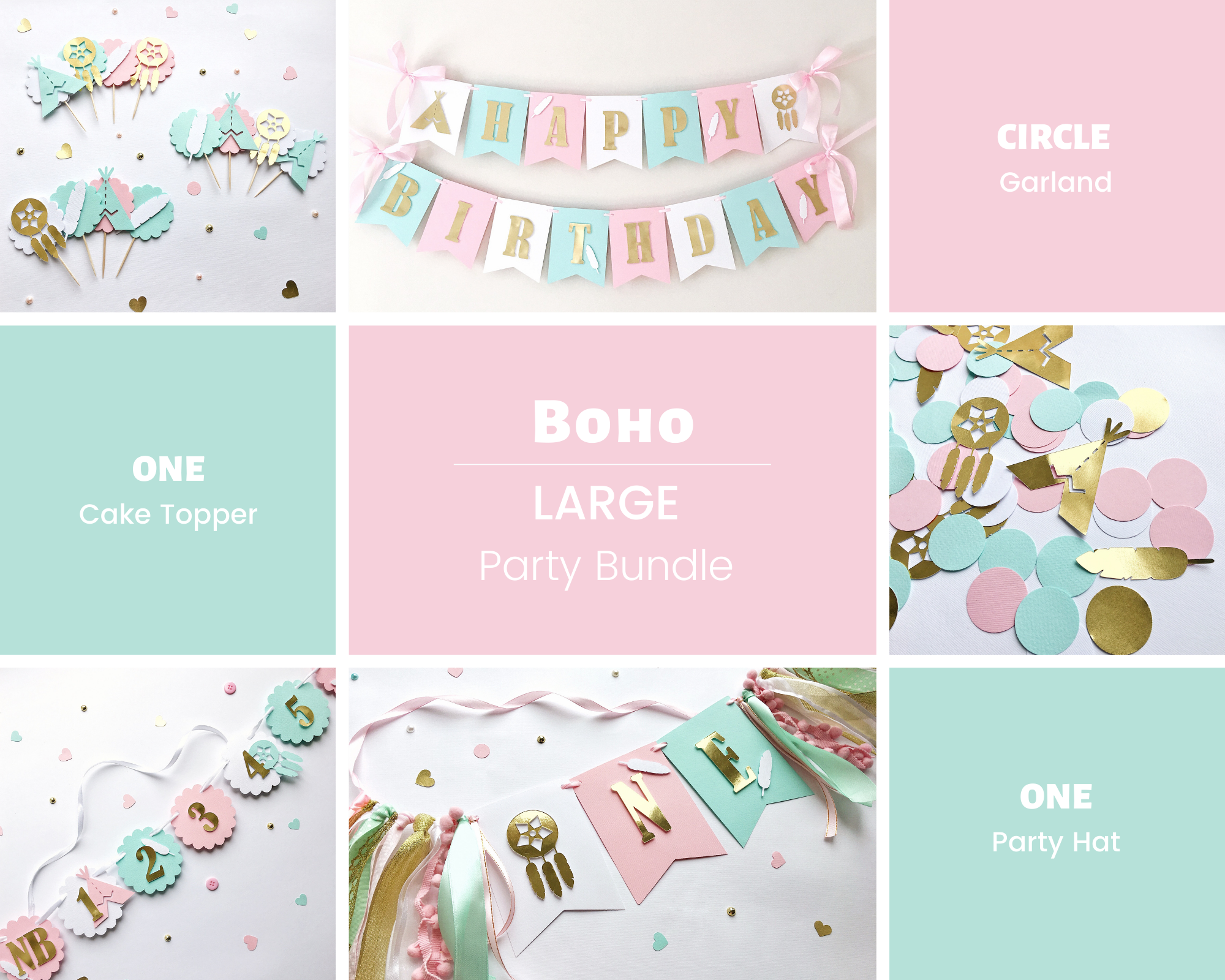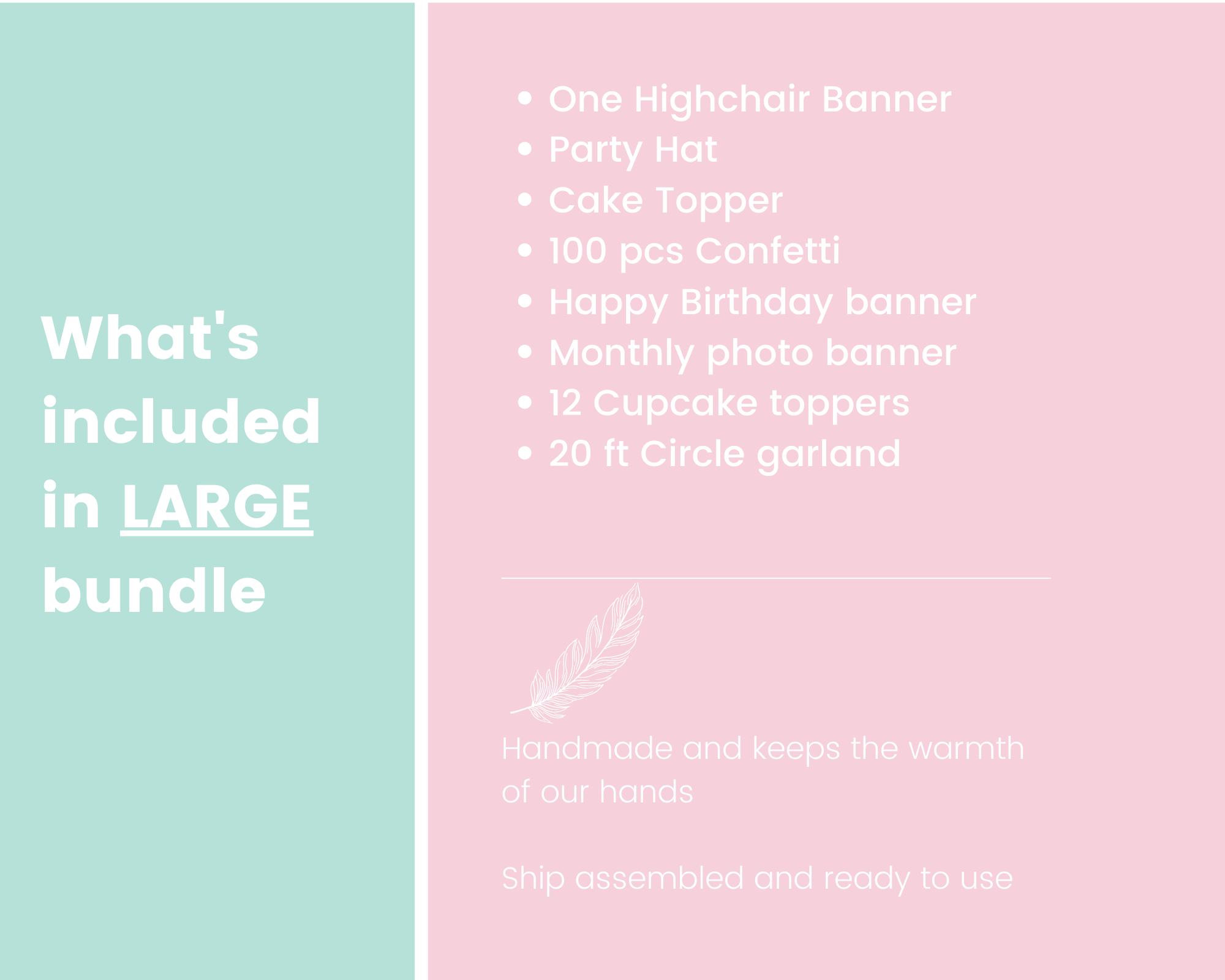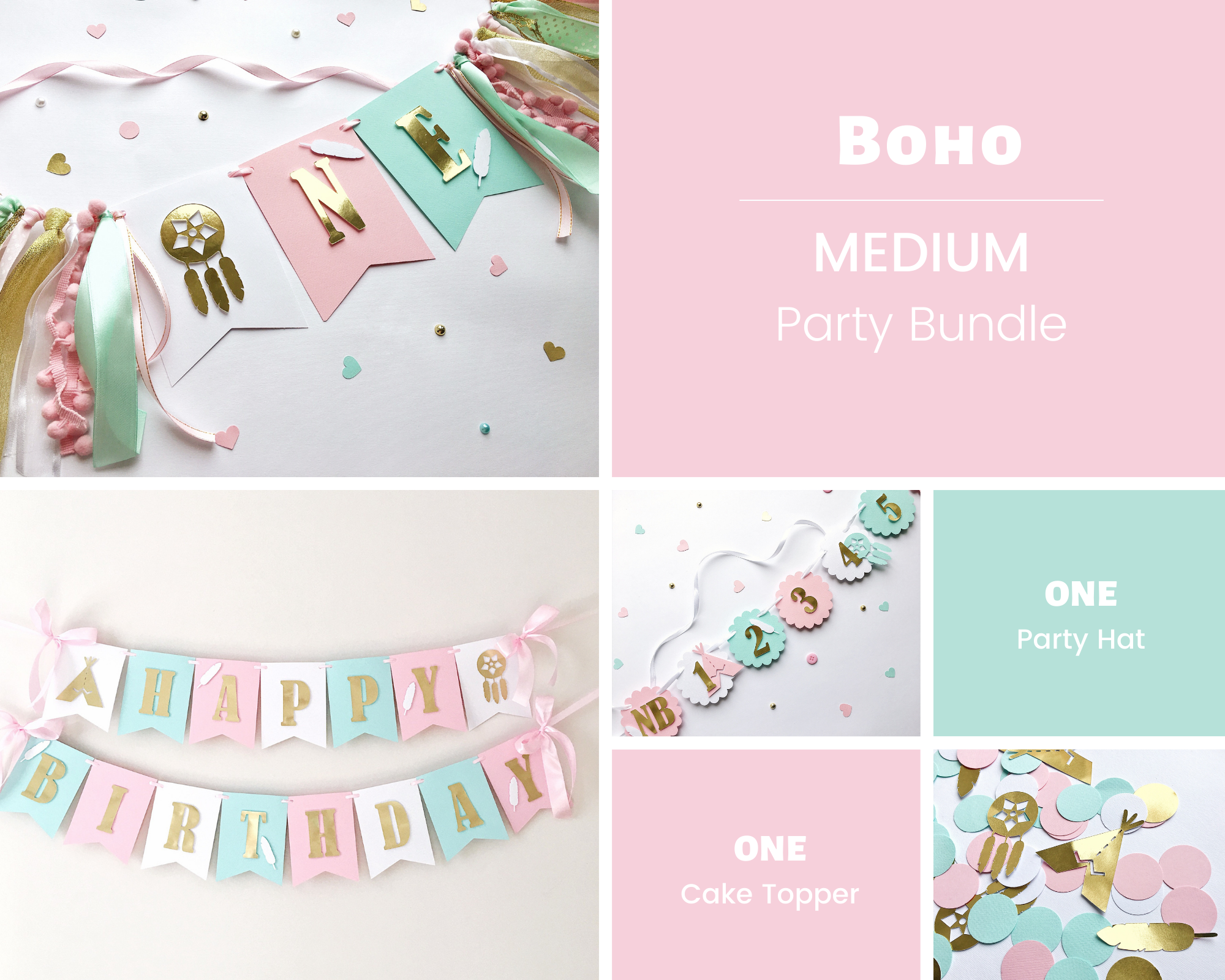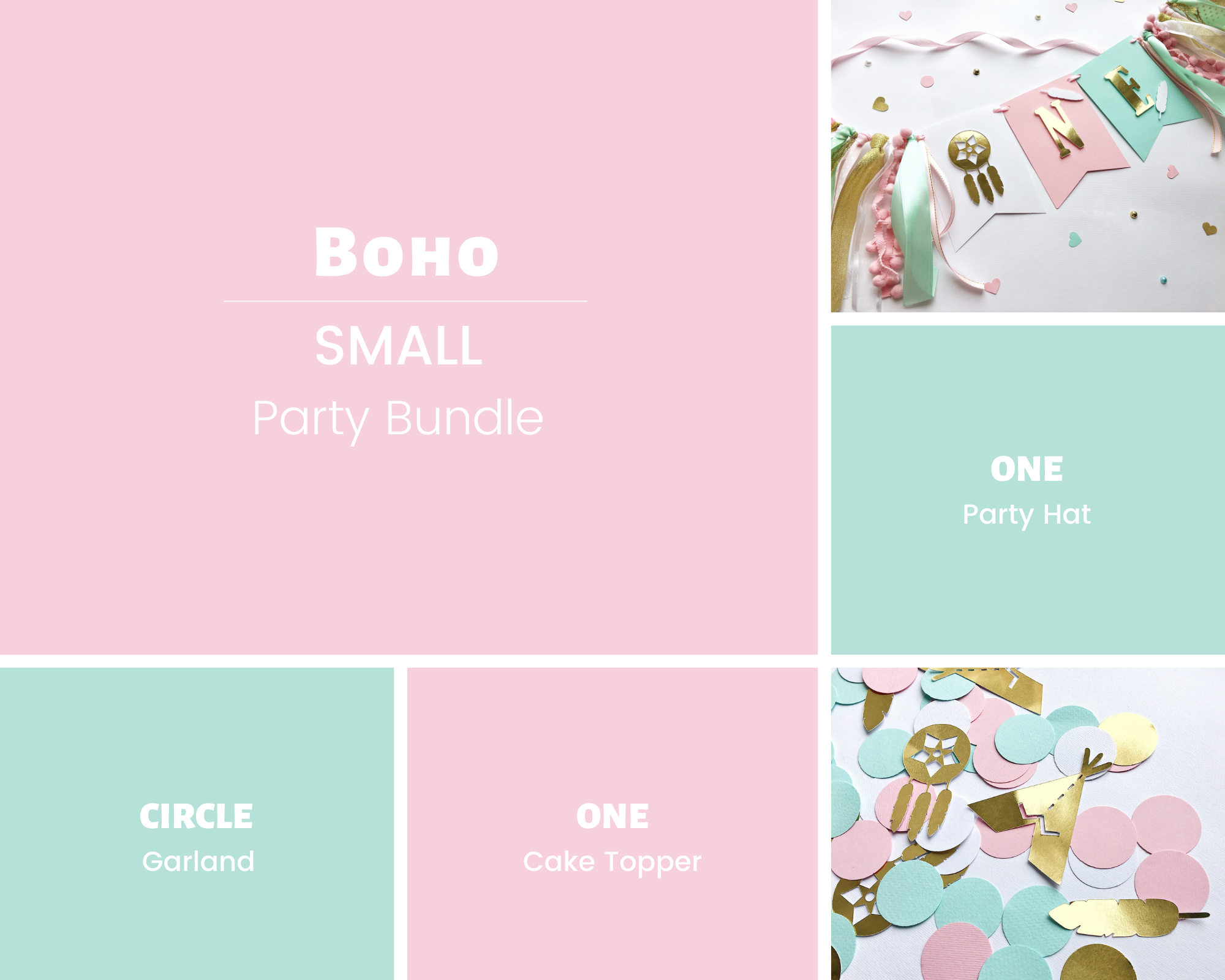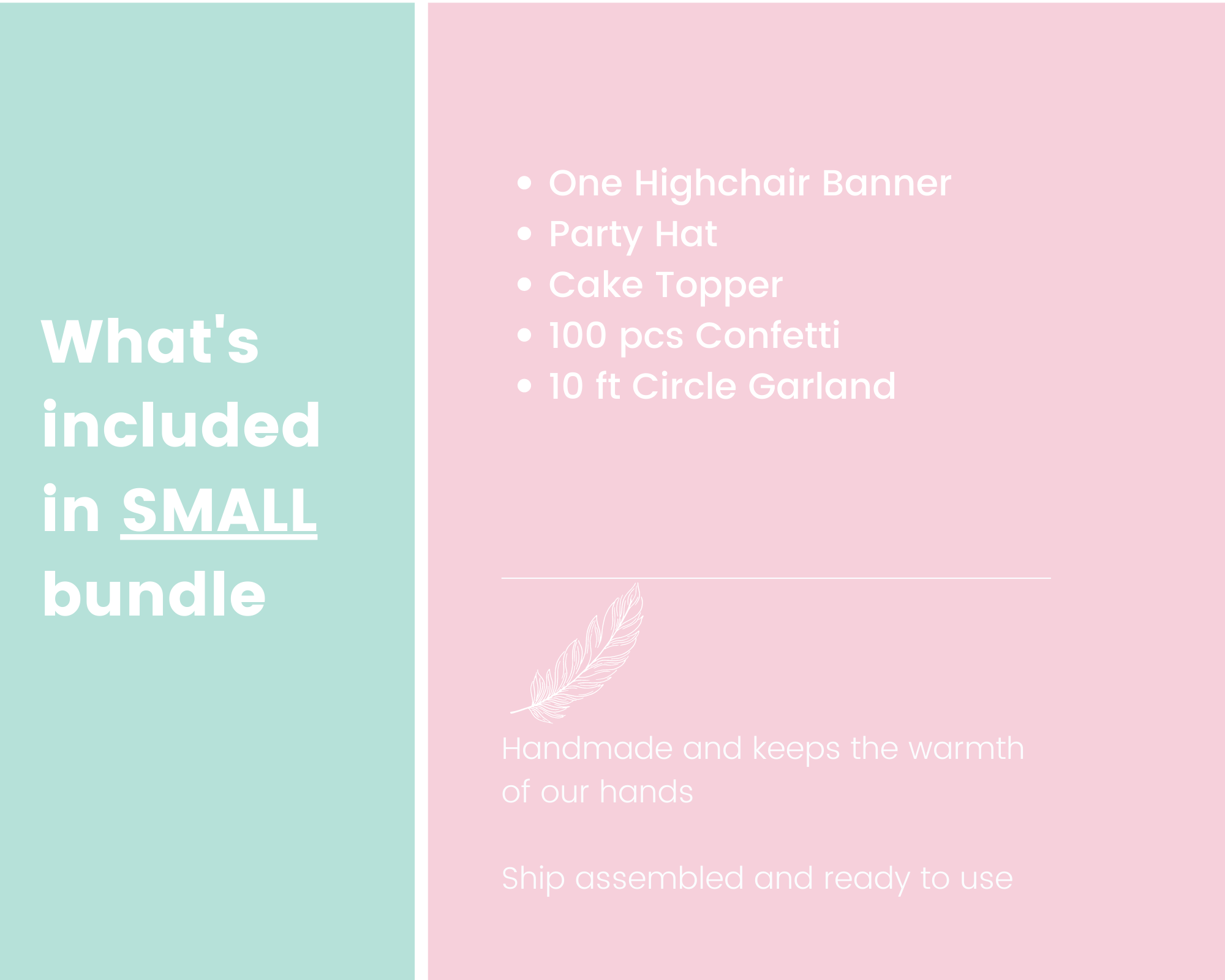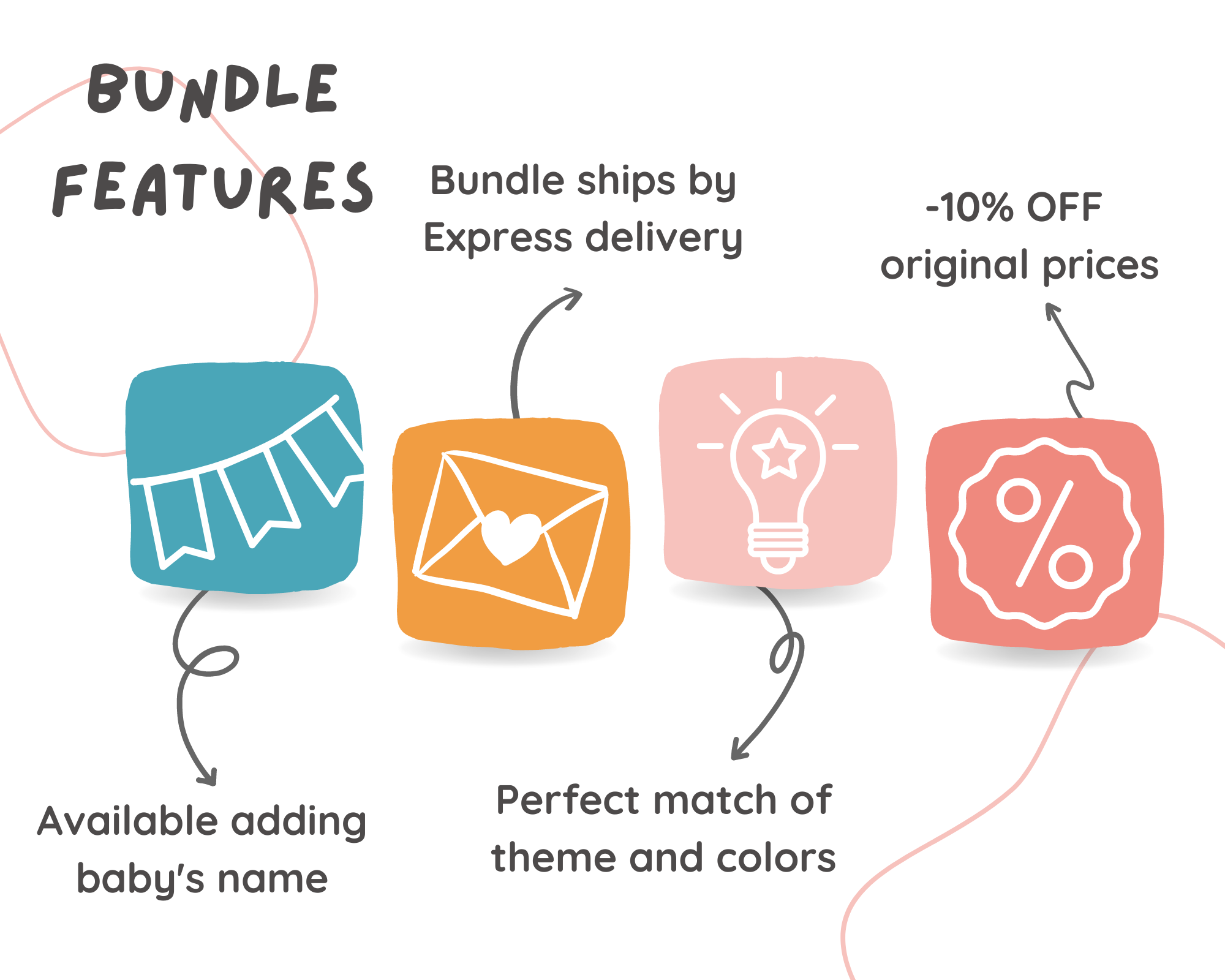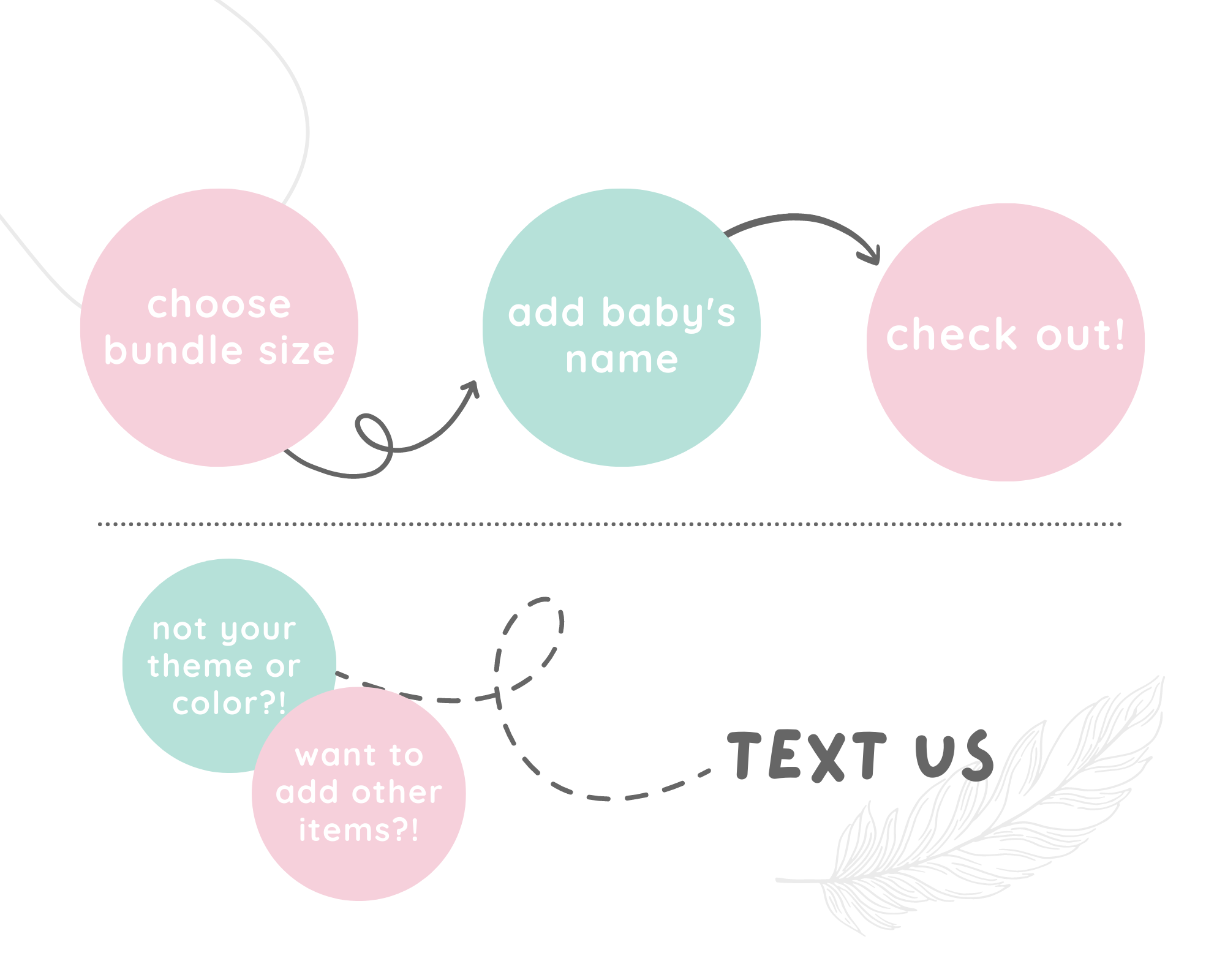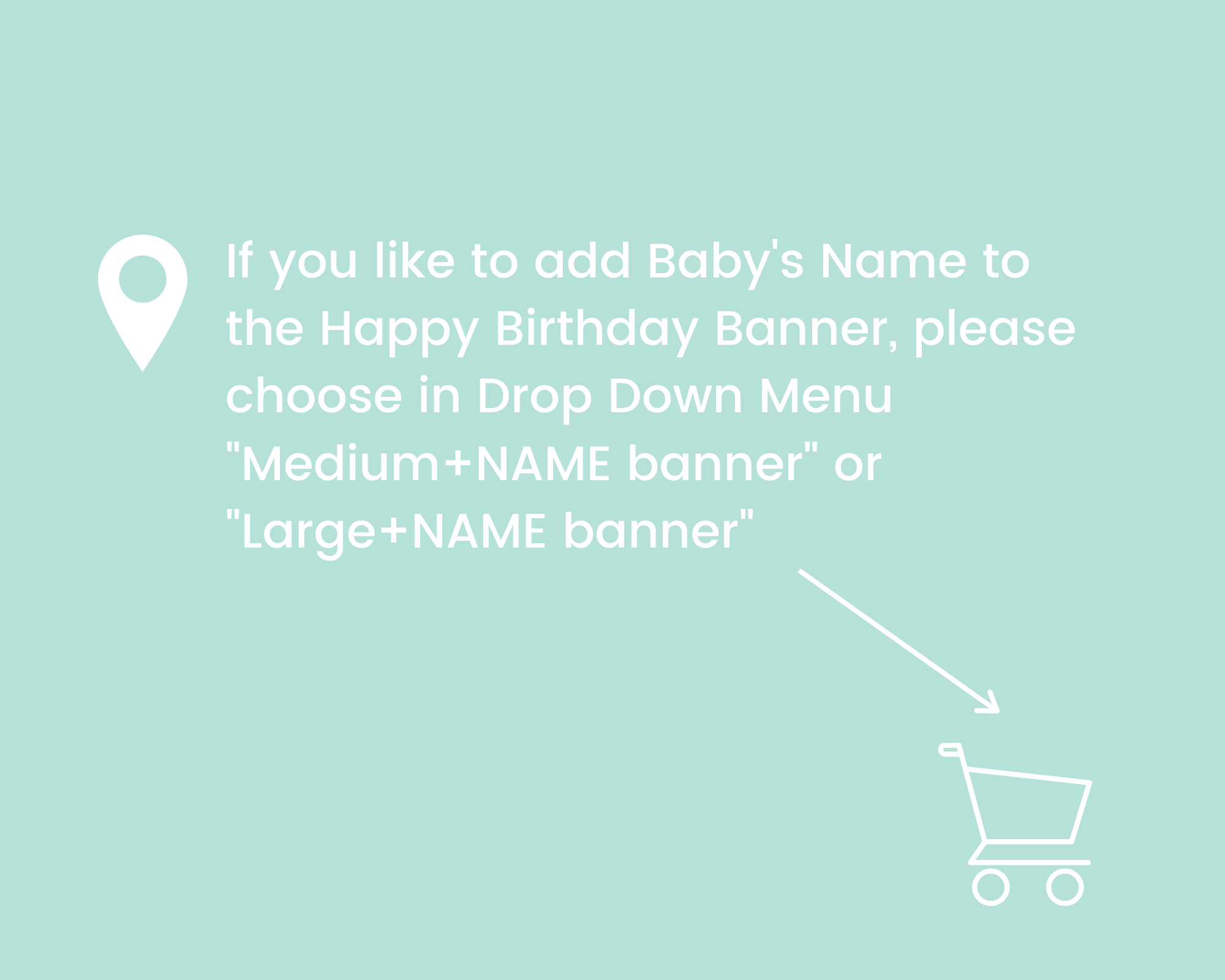 $55.95
Regular price
$62.85
Description

Perfect for

Materials
Looking for Girl 1st Birthday party decorations?! Adorable Boho Themed Birthday Bundle containing everything you need for a totally gorgeous party!
We've bundled our bestsellers and are offering the bundle items with a 10% discount from our standard retail prices.
--COLOR--
Light Pink, Gold, Mint, White
⇒ SMALL bundle includes
• One Highchair Banner
• Party Hat
• Cake Topper
• 100 pcs Confetti
• 10 ft Circle Garland
⇒ MEDIUM bundle includes
• One Highchair Banner
• Party Hat
• Cake Topper
• 100 pcs Confetti
• Happy Birthday Banner
• Monthly Photo Banner
⇒ LARGE bundle includes
• One highchair banner
• Party Hat
• Cake topper
• 100 pcs Confetti
• Happy Birthday Banner
• Monthly Photo Banner
• 12 Cupcake Toppers
• 20 ft Circle Garland
------------------------------------------------------------------------------
-- DETAILS--
• Made of high quality design paper
• Designed with cute
dreamcatchers, teepees and feathers
• Banners ⇒ strung on a satin ribbon; Flags measure 3.9 x 5.3 inches and designed with ribbons both ends
• Party Hat ⇒ designed in boho style, number "1" in the front and pom pom; Size: height: 5.5" (14 cm) & width: 3.5" (9 cm) at widest point. 
Comes packaged flat and it's so easy to put together - just assemble it into a cone shape, no glue or other material required
• Cake Topper ⇒ attached to wooden stick; 3D - Consists of 3 layers
• 12 Month Banner ⇒ consists of 13 shapes (newborn through 12 months). Each shape is backed with a wood pin to clips on the back to hold Baby photos
• Circle garland ⇒ sold by feet. It will be sent in a continuous length. All the pictures of my garlands are made with one single strand.
• Confetti ⇒ you will receive in the pack of 100 pcs: 12 unicorns + 88 circles
• Boho Birthday Decorations are made carefully and accurately
• Handmade and keeps the warmth of our hands
• Ship assembled and ready to use
!This product is not a toy! Should only be used with adult supervision!
-------------------------------------------------------------------------------------------------------
Be FUN with FUNSTACRAFT
We've created Boho 1st Birthday Bundle to match Boho 1st Birthday Boho One First Birthday Party Boho Girl 1st Birthday Theme decorations perfectly.
High quality design paper, Ribbon, Wooden stick, Wood clothespins, Thread
---
---
Crafted to perfectly complement each other
Keeps the warmth of our hands
Designed to save you time and effort
Boho 1st Birthday Bundle
$55.95
Regular price
$62.85
FAQ

How long does it take to receive my order?

Allow 1-3 business days for order to prepare.
Shipping times will be based on the shipping method you select at checkout.
Estimated Shipping timelines

*United States
Standard ~ 10-14 business days
UPS Express ~ 5-8 business days
*Canada UPS Express only 8-11 business days
*European Union UPS Express only 5-10 business days
*United Kingdom UPS Express only 8-12 business days
*Australia UPS Express only 9-11 business days
*Everywhere else UPS Express only 10-15 business days

Can I add additional items to my order once it has been placed?

Please feel free to place a next order for the additional items. If your original order is not shipped before your second order is placed, most of time, we can combine the orders to ship together.

Do you offer Express shipping?

Yes, UPS express shipping method available during the check out.

Can I get custom and/or personalized orders?

Yes, please message us via Contact section.
Attention to details
Discover party decorations crafted from the finest materials to create a festive atmosphere that your guests will love. With a range of options to choose from, you'll find something to fit every event!